Information for Parents and Students
Reopening Information Booklet - March 2021
Covid19 Home Testing Kits
We sent home testing kits home last Friday. We are asking students to do their home tests every Thursday and Sunday evening. Testing twice a week at home should also continue throughout the Easter holidays and additional kits to cover this period will be sent home next Friday, 26th March.
Upon completing your test, please remember to upload your result to the government website: https://www.gov.uk/report-covid19-result.
Please also inform the school of your result by using the following form: https://forms.office.com/Pages/ResponsePage.aspx?id=2s8TOK9SpUy44yMVeXcKuiGj9ZJeAHFLiw-LVxPtYGZURVI3WFFGMlVaNDNTQlFHWVYxR1o2S1pLMy4u
 Below you can find some information about completing your own home test.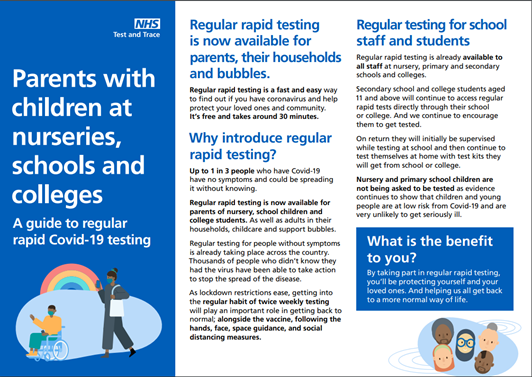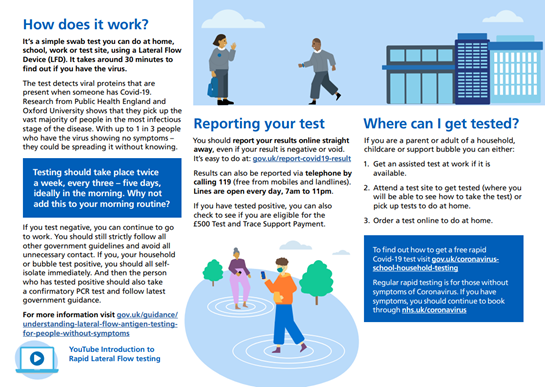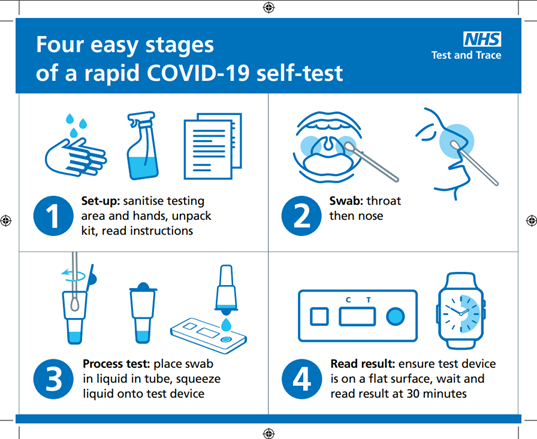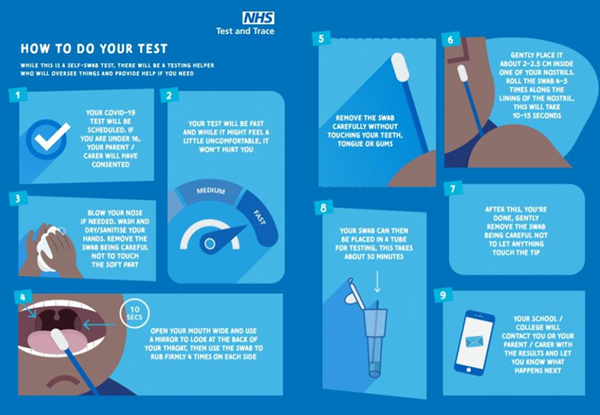 An animated version of how the test works can be found at the following link: https://twitter.com/10DowningStreet/status/1328387524490911745?s=20
We are extremely grateful for everyone's support in working together throughout the Covid pandemic. Since the start of term, we have been working hard to ensure that all of our control measures are secure and students are supported in a safe learning environment.
Should you need to confirm a positive case during school hours you should contact our attendance team (01746 765454  or karen.sawyer@oldburywells.com)
Should you need to report a positive case out of school hours, including during the weekend or school holidays, please contact covid.support@oldburywells.com. We will ensure a response at the earliest opportunity.
In school we constantly promote the NHS key message and would ask all families to raise awareness with their child and make sure they arrive to school with an appropriate face covering.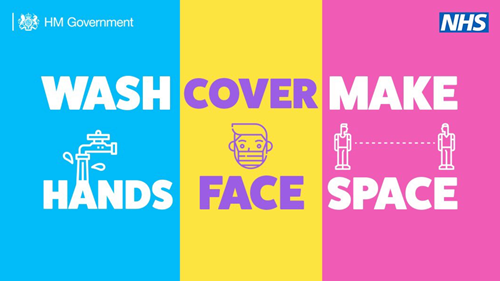 Full Government guidance on the opening of schools can be found at: https://assets.publishing.service.gov.uk/government/uploads/system/uploads/attachment_data/file/964351/Schools_coronavirus_operational_guidance.pdf 
Attendance expectations
It is vital for all children to return to school to minimise, as much as possible, the longer-term impact of the pandemic on children's education, wellbeing and wider development.
Missing out on more time in the classroom risks pupils falling further behind. Those with higher overall absence tend to achieve less in school. School attendance has therefore been mandatory from the beginning of the Autumn term. This means from that point, the usual rules on school attendance apply, including:
Parents' duty to secure their child's attendance regularly at school (where the child is a registered pupil at school and they are of compulsory school age)
Schools' responsibilities to record attendance and follow up absence
The availability to issue sanctions, including fixed penalty notices in line with local authorities' codes of conduct.
All pupils, including those who are clinically extremely vulnerable, can continue to attend school at all Local COVID Alert Levels unless they are one of the very small number of pupils or students under paediatric care (such as recent transplant or very immunosuppressed children) and have been advised specifically by their GP or clinician not to attend school.
Face Coverings
In schools where pupils in year 7 and above are educated, face coverings should be worn by adults and pupils when moving around the premises, outside of classrooms, such as in corridors and communal areas where social distancing cannot easily be maintained. This was already the case for pupils in year 7 and above, and staff and visitors for those schools that were in areas where local alert level 'high' and 'very high'.
Some individuals are exempt from wearing face coverings and we expect adults and pupils to be sensitive to those needs.
Face coverings should also be worn by pupils in year 7 and above when travelling on dedicated school transport to secondary school or college.
In addition, we are now advised that face coverings should be worn in classrooms or during activities unless social distancing can be maintained.
This does not apply in situations where wearing a face covering would impact on the ability to take part in exercise or strenuous activity, for example in PE lessons.
Transport
Children and young people aged 11 and over must wear a face covering on public transport. Face coverings should also be worn by pupils in year 7 and above when travelling on dedicated school transport to secondary school or college. This does not apply to those who are exempt.
Travel in or out of local areas should be avoided, and parents, carers and staff should look to reduce the number of journeys they make - but travelling to deliver and access education is still permitted.
Staff, children and their parents and carers are encouraged to walk or cycle when travelling to and from school where this is possible, and to plan ahead and avoid busy times and routes on public transport. This will allow social distancing to be practised.
Traveling to and from School
Students are reminded for the need to travel to and from school on the most direct route, they should not arrange to meet groups of friends on their journey to and from school and should not congregate in larger groups during this time. Parents are requested to speak to their children to ensure that students respond effectively. The local policing team have outlined they do have the power to issue fines to families where concerns may arise.
Meeting Others Safely
In general, you must not meet people socially. However, you can exercise or meet in a public, outdoors space with people you live with, your support bubble (or as part of a childcare bubble), or with one other person. You should minimise time spent outside your home. When around other people, stay 2 metres apart from anyone not in your household - meaning the people you live with - or your support bubble. Where this is not possible, stay 1 metre apart with extra precautions (e.g. wearing a face covering).
You must not meet socially indoors with family or friends unless they are part of your household or support bubble.
A support bubble is where a household with one adult joins with another household. Households in that support bubble can still visit each other, stay overnight in each other's households, and visit outdoor public places together.
What to do if your child develops symptoms of COVID 19
If your child develops symptoms of COVID-19, they should remain at home for at least 10 days from the date when their symptoms appeared. Anyone with symptoms will be eligible for testing and this can be arranged via https://www.nhs.uk/ask-for-a-coronavirus-test or by calling 119.
People who do not have symptoms should not request a test unless this has been specifically requested by Public Health England or the local authority.
All other household members who remain well must stay at home and not leave the house for 10 days. This includes anyone in your 'Support Bubble'. The 10-day period starts from the day when the first person in the house became ill.
Household members should not go to work, school or public areas and exercise should be taken within the home. If you require help with buying groceries, other shopping or picking up medication, or walking a dog, you should ask friends or family.  Alternatively, you can order your shopping online and medication by phone or online. Household members staying at home for 10 days will greatly reduce the overall amount of infection the household could pass on to others in the community.
If you are able, move any vulnerable individuals (such as the elderly and those with underlying health conditions) out of your home, to stay with friends or family for the duration of the home isolation period. Please see the link to the PHE 'Stay at Home' Guidance:
https://www.gov.uk/government/publications/covid-19-stay-at-home-guidance/stay-at-home-guidance-for-households-with-possible-coronavirus-covid-19-infection
Symptoms of COVID 19
The most common symptoms of coronavirus (COVID-19) are recent onset of:
new continuous cough and/or
high temperature and/or
a loss of, or change in, normal sense of taste or smell (anosmia)
For most people, coronavirus (COVID-19) will be a mild illness.
If your child does develop symptoms, you can seek advice from the nhs.uk website at https://www.nhs.uk/conditions/coronavirus-covid-19/check-if-you-have-coronavirus-symptoms/. If you are concerned about your child's symptoms, or they are worsening you can seek advice from NHS 111 at https://111.nhs.uk/ or by phoning 111.
How to stop COVID-19 spreading
There are things you can do to help reduce the risk of you and anyone you live with getting ill with COVID-19. 
Do:
Wash your hands with soap and water often – do this for at least 20 seconds
Use hand sanitiser gel if soap and water are not available
Wash your hands as soon as you get home
Cover your mouth and nose with a tissue or your sleeve (not your hands) when you cough or sneeze
Put used tissues in the bin immediately and wash your hands afterwards