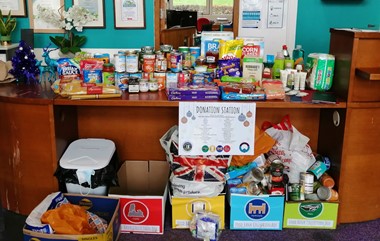 Bridgnorth Food Bank Christmas Collection
We collected over 400 items for Bridgnorth food bank
At the end of November we launched an inter-house competition to collect donations for Bridgnorth Food bank. They are a local organisation, run by volunteers who provide food parcels and essential items to people and families in need in our local community. 
Thank you to everyone across our school community who donated to our food bank collection. As a school, we gathered over 400 items which will make a real difference! We donated everything to Bridgnorth Food Bank on Monday morning and they were very grateful for the support.
The results of the inter-house are now also in! We can reveal that Castle won the competition, donating a brilliant 154 items! Westgate came in 2nd with 96 items, Northgate was 3rd with 81 items, and Friary came in 4th with 71 items.
Date Published: 13 Dec 2021