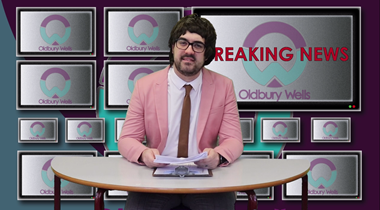 Oldbury Wells leads Primary news project
We recently led a news project with local primary schools.
Over the lockdown period, Oldbury Wells launched a Newsround project, inviting 13 schools in the area to take part, creating their own news piece and reporting on topics they have been learning about while working at home. 
We launched the project in February with a video starring our very own Mr Cook as news anchor 'Ali-Gator', which invited pupils to tell us all about the work they had been doing; giving some advice on how the could be both creative and informative within their recording. Over the following weeks, we received lots of entries from each school involved, some were within the TrustEd Partnership (Alveley, Castlefield's, St Leonard's, Stokesay, and Church Stretton Secondary School) with others coming from Beckbury, Claverley, Highley, Morville, St Mary's Bluecoat, St John's, Stokesay and Worfield.
Once all clips were received, our governors and staff judged the entries, and chose winners from each school. We also selected two overall winners for their efforts and their outcome of the project: Austin Hunter-Partridge from Worfield Primary School for his story about deforestation and rainforests, and Abigail Higgott from St Leonard's C.E Primary School for her story about finding Tudor coins in her garden.
To round the project off, on Friday 19th March, our school led an exciting virtual assembly with each of the schools involved, to showcase a short video with winners clips included, and to celebrate the work and efforts of all pupils involved and announce the winners. 
Mr Smith (Head of Year 7) and Mrs Godden (TrustEd CEO) presented awards for the two overall winners live on location during the assembly. 
The project was really enjoyed by everyone involved and was covered by the local press - The Shropshire Star, and BBC Radio Shropshire. 
You can read the launch article here: Go to Shropshire Star
You can read the assembly and outcome article here: Go to Shropshire Star
You can listen to Mr Tristham on the radio here: Go to Youtube
You can read TrustEd Talk Edition 3 here: Go to TrustEd website
Date Published: 22 Mar 2021