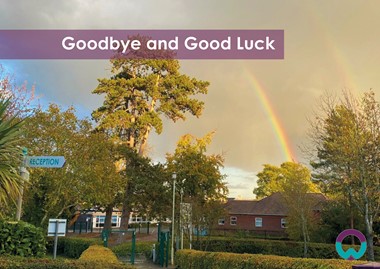 Wishing staff the best of luck for the future
Wishing good luck and saying goodbye to staff leaving us this term.
At this time of year, we say goodbye to staff who are moving onto pastures new, thanking them for the positive impact they have had during their time with us and the difference they have made for students, families and the whole staff team.
Miss Docker is moving on from our central admin team having previously completed her apprenticeship with us; we wish her all the best in her new role. From the teaching team Mrs Boyle (Science) and Mrs Gillam (ICT & Business) move on with our best wishes for the future. Mrs Preece (Inclusion Team) has supported many students in school; having completed her formal qualifications she now moves into a full-time counselling role in Birmingham. We wish them all the very best for the future.
Finally, after almost 20 years' service to the school, we also say goodbye to Mrs Anthony (SENCO). Having joined the school in September 2002, Mrs Anthony originally worked as Head of Year 10. After several years she then took on the role of SENCO. During her years of service Mrs Anthony has supported many young people and families to ensure that those young people with any identified learning need received the best support and provision possible. Her knowledge of young people across the school and her positive relationships with all families she works closely with have resulted in so many positive outcomes, enabling so many to maximise their progress both academically and personally during their time at the school.
I know that the whole staff team are grateful for the support she has given. She is highly experienced as well as being extremely diligent in all she does, having a genuine care for all those she works with and ensuring she can do everything possible to make a difference.
Mrs Anthony will be missed by everyone across the team, we wish her all the very best for the future knowing that she will remain in contact and will always be part of the Oldbury Wells family.
Date Published: 17 Dec 2021