Extra-Curricular and Clubs
Example of school clubs
We have a number of school clubs students can join, such as:
• School Council—have your say
• Science Technology and Engineering Club
• Textiles Club
• Encore (a vocal group)
• School Show
• Art Club
• School Band
… and of course every sport you can imagine can be experienced and become part of your child's school life at Oldbury Wells.
Here at Oldbury Wells, we also offer the Duke of Edinburgh Award, where students take part in a range of voluntary, physical, skill based activities, and also an expedition.
PE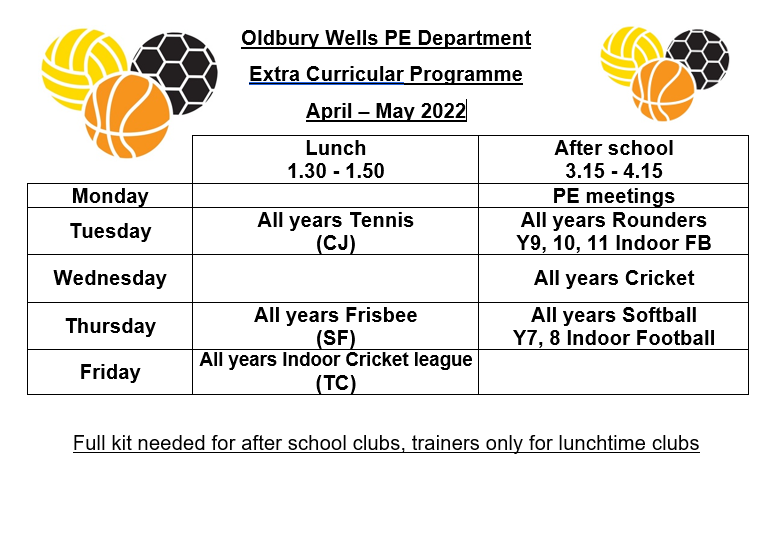 English
Miss Roberts runs afterschool revision/Literature support for Year 11's on a Tuesday until 4pm, and Year 13 on a Wednesday until 4pm. It is a space to do homework, tasks, ask questions and revise for English Literature. open to all year 11's and 13's on their designated day. 
IT
Code Club
Friday afterschool in W60 with Mrs Dunning
Open to Years 7 and 8 only
In code club we have a number of exciting projects to work on over the duration of this academic year where students have an opportunity to create a game, website, digital art, music and a robot.
Music
Encore
NOTICE: Encore vocal group rehearsals are temporarily on hold during the current mask-wearing phase. Updates will be sent out when rehearsals resume.
Every Thursday 3:15-4:00pm in the music room with Mrs Dangerfield
Mixed male/female vocal group
Homework Club
Open to Year 7 Pupils only. A quiet place to complete homework. 
Tues, Wed, Thurs lunchtime in W55