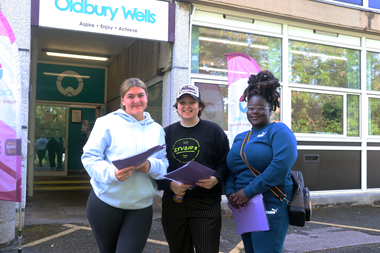 GCSE Results Day
Students returned to Oldbury Wells School today to be welcomed by staff while they collected their GCSE results.
Following what has been a challenging year for all there was a real sense of excitement as everyone arrived with everyone feeling extremely positive having put in so much effort to do their very best within all subjects.
Lee Tristham said "It was great having everyone back in school today, students have worked so hard and demonstrated such resilience in everything they have achieved.  The fantastic relationships between staff and students ensured that everyone remained focused no matter if working in school or at home during any periods of isolation.  Although there have been many challenges, the experiences students have had will undoubtedly make them stronger as they make the next steps on their educational journey; we a proud of every individual.  A huge thanks must also be said for the dedication of all our staff team in school who have given tremendous support to all our students and families, it has been a real team effort".
All students performed exceptionally well and worked hard to demonstrate progress in all areas. High performers included Will Leach who achieved 7 Grade 9's alongside an 8 in Spanish and 7 in English. Benjamin Scobie and Gareth Saunders who achieved a fantastic set of qualifications including 6 grade 9's each, alongside May Neal who achieved 6 Grade 9's in subjects including Physics, Biology and Chemistry.
Eleanor Wenham achieved 7 Grade 9's and 2 Grade 8's; she said " I feel really relieved at receiving my results, I tried really hard and I am glad it has paid off.  I am really looking forward to returning to Bridgnorth 6th Form and starting again in September".  Saffron Ransom also celebrated her results which included 3 grade 7''s and 2 grade 6's, she said" I feel really relieved to finally get my results, all the hard work was worth it"
Evie Tanswell who gained a number of grades at levels 9, 8 and 7 said " I am really pleased with my results, I am looking forward to sixth form and the chance of a fresh start with new subjects." 
Mr Wycherley  said "Today has been a day of celebration and acknowledgement for every individuals' achievements.  Students focus and determination to respond to whatever has been asked from them has been a pleasure to see.  It was really apparent today that having received their results, all our students can look back and reflect on what were really challenging times but take significant satisfaction from what they have achieved.  We look forward to continuing to support those students who are returning to our Bridgnorth 6th Form and wish them alongside students pursuing a new direction all the very best for the future. Well done to everyone."
You can read the article in the Shropshire Star: Link to article
Date Published: 13 Aug 2021